Welcome to TechBeamer's About page.
A quick introduction
Since you've steered the wheels to view this page, it implies that you are curious to know more about TechBeamers which is a website for programmers, developers, and test engineers. Another point that you might be thinking that who are those putting up their best efforts to make this website a success. So, let's dive in and listen to the story behind the idea of TechBeamers.
Who we are?
Hi, I'm Meenakshi Agarwal, Co-Founder of TechBeamers.com. I'm a Computer Science Graduate from Lucknow University and a Master of Computer Applications (MCA).
I've worked with large MNCs and spent years doing Software development, product design, testing, and automation.
My tech stack includes C/C++, Visual C++, Python, Java, J2EE, C#, DotNet, Selenium, FitNesse, and a number of other technologies.
Apart from me, I got active support from my readers and a few volunteers who are highly qualified software engineers.
Why TechBeamers?
I started this website with only one objective, i.e., to deliver information in its most simplistic form. It's our tagline as well – "Simplifies Technology." Next, I'm passionate about writing and entrepreneurship which led me to start this website in 2015.
Also, I've always been one who likes to help co-workers, friends, and team members in their work. And there couldn't be a better platform than a technology blog where I can reach millions of people and assist them with high-quality programming, testing, and automation tutorials.
What problem are we solving?
When I began development and coding, there were not so many good and free online resources. And whatever they were, they were not easy to learn.
While working in the Software industry, I realized that people tend to have a way of presenting things more complexly. I also learned that often simple solutions prove to be the best ones but have their respective execution challenges.
Hence, I created TechBeamers to make the complex easier. Initially, I launched TechBeamers as a personal blog where I tried to incorporate what I was learning in a simple, to-the-point, and easy-to-use format.
But, TechBeamers has grown to become a technology website as we are reaching more and more professionals around the world. It is now helping software developers, programmers, and other IT professionals in shaping their careers, routine project work, and transforming their lives.
What do we offer?
At TechBeamers, we pride ourselves on our extensive library of programming tutorials, covering an array of languages such as Python, Java, C, C#, SQL, Angular, PHP, and many more. Whether you're a novice or an experienced coder, our step-by-step tutorials will guide you through the intricacies of each language, helping you build a solid foundation and expand your coding repertoire.
But that's not all! We understand the importance of practical skills, which is why we delve into the realm of web-based testing and automation using Selenium and Python. Dive into the world of web development and automation, where you'll gain hands-on experience through real-life projects and simulations. Unleash your creativity and watch your code come to life as you navigate the intricacies of web-based testing and automation.
Preparing for interviews can be daunting, but fear not! TechBeamers has you covered with our curated collection of interview questions and strategies. Gain a competitive edge by familiarizing yourself with common interview challenges across various programming languages. We provide in-depth insights and guidance to help you shine and impress potential employers.
But learning doesn't have to be all serious business! We believe in making it interactive and enjoyable. Engage your mind with our captivating quizzes, designed to test your knowledge and challenge your coding prowess. Compete with fellow learners, track your progress, and celebrate your victories along the way.
TechBeamers isn't just a website—it's a vibrant community of learners, enthusiasts, and expert instructors. Join us and immerse yourself in a world where Python, Java, C, C#, SQL, Angular, PHP, web-based testing, automation using Selenium, interview questions, and quizzes blend seamlessly. Let us empower you to become a coding maestro, ready to conquer any programming task that comes your way.
What do we commit?
At TechBeamers, we strive to demonstrate the best experience for our users. That's why we regularly update our tutorials and ensure their quality and correctness.
Also, we try to improve ourselves by creating fresh and innovative content as we refer to it time and again. We do deep research to produce and deliver high-quality coverage on the topics of our reader's interest.
That's why our primary intent is to deliver improved content every time. We publish only quality information that could bring value to our readers.
Accolades
Recently, our website was ranked amongst the top 50 programming blogs by Feedspot.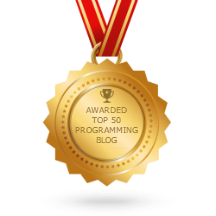 Footnote: TechBeamers – Your Gateway to Programming Excellence!
TechBeamers serves as your gateway to programming excellence, providing a wide range of tutorials for various languages, web-based testing, automation, interview question guidance, and engaging quizzes. Take your coding skills to new heights and unlock a world of opportunities with this comprehensive website.
With TechBeamers, you can embark on a seamless learning journey, mastering the intricacies of different programming languages. Whether you're captivated by Python's elegance or intrigued by the versatility of Java, TechBeamers equips you with the knowledge and tools needed to thrive in the coding realm.
But it doesn't stop there. TechBeamers goes beyond tutorials, offering practical web-based testing and automation techniques. Through hands-on experiments and simulations, you can gain valuable experience in web development and automation, preparing you for real-world challenges.
When it comes to interviews, TechBeamers has your back. Access a plethora of interview questions and strategies, empowering you to face interviews with confidence and expertise.
And let's not forget the engaging quizzes that make learning fun. Challenge your coding prowess, test your understanding, and celebrate your progress along the way.
TechBeamers is your trusted companion on your path to programming greatness. Explore the tutorials, embrace web-based testing and automation, conquer interviews, and enjoy the thrill of quizzes. Experience the transformative power of TechBeamers as you elevate your programming skills and open doors to a successful future.
Cheers!